ILLUMINATIONS

Frames
Illuminations are presented in original framings carried out according to the traditional "glue size" method...
The shaped rods are cut then assembled, sandpapered in order to be coated with glue size...
Coating with glue size kept hot in a bain-marie and laying gold or copper leaf with the help of gold size.
Ten coats are needed to obtain the required thickness, then sandpapering with increasingly fine abrasives and perfecting work with steel wool, laying gilder's clay base at the places intended to hold leaf in position. Other parts are coated with pigmented glue size of the final color...
Photographies by Monique Sibeth/Pierrick Pinot

Maria Louisa
Maria Louisa optional extra and made according to the same technique as described above, but with engraved designs in addition...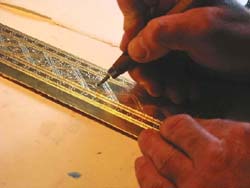 Engraved designs made with fleurons, styles and burins...

The finishing touches
Leaf is protected with shellac, entire frame waxed and illumination put safe from dust with gummed paper bands...
Certificates on the back of the frame and an achieved work... Here, the knights of the Round Table