ILLUMINATIONS

Technique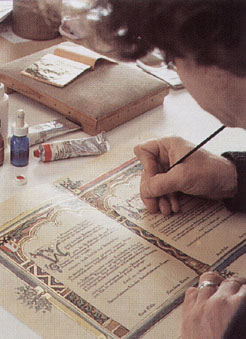 > Drawings are carried out with graphite pencil then enhanced with Indian ink for sole copies or silkscreen printed for the small series (Months of the Year & Tarots for example).
The method known as the "Méthode des Quatre As", developed in the "Atelier du Pied d'Or", is defined in four points certifying and characterizing the composition of my illuminations :
The first point : Drawing and ornamentations are entirely colored with brush according to the traditional techniques of painting, excluding the use of any stencil...
The second is gilding carried out with gold leaf, and not by means of metal powder in suspension in any binder, like ink...
The third : Golden and silvered areas are decorated with engraved ornaments with the help of fleurons, styles and burins...
The fourth is the use of a wrinkled vegetable medium - exclusively elaborated by the "Atelier du Pied d'Or"- called "Pellis Draconis", having the texture, translucidity specific to vellums, for the creation of incunables, or the use of a rigid medium obtained by cloth backing this "Pellis Draconis" on strong chart called "Main-brune" in french (brown hand), allowing the engraved ornaments mentioned above, for framed works.
Frontispice on "Pellis Draconis" with initials R-F-B intended to be integrated in a commemorative incunable.
1) Geometrical Structure
2) Sketch with graphite pencil
3) Working drawing : Sketch enhanced with Indian ink
4 & 5) Execution of the flat tints with brush and glue size coats (rich in clay, here in brown red) intended, after it is covered with a thin coat of gold size, to hold the gold or silver leaf in position.
6) Achieved work, after painting parts in the shade and light, coating of the gold leaf and outlining with ink.
The Knights of the Round Table (details)

Left above : Just after the gold-coating process.

Right above : While outlining golden areas with black ink.

Opposite : Engraved ornaments. Final result.

Note : In the Middle Ages, it seems the coating of gold leaf is carried out directly on the working drawing, before painting. The painting itself begins with the backgrounds (often decorated with geometrical patterns) which evokes the warp on which are woven the foreground figured events. Taking into consideration what the gold represents (light, incorruptibility, permanence specific to metaphysic realities, eternity...) and which must take precedence over the figured events, expressed by forms and colors, it is guessed that this order is symbolic and not hazardous. However, I prefer to close my works with this last operation...
Various phases of the creation of an Illumination.
Certificate and dedication written on the back.

Christ in Majesty and the four Evangelists