TAROTS & JEUX - The Tarot d'Argolance - Traditional style of production

The hand painted version
> The silkscreen printed/printed version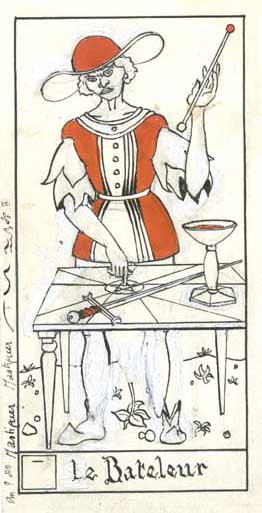 The Juggler, first draft of the Tarot d'Argolance drawn in 1972 ! Little did I know where does it lead me !
Sketches, Indian ink drawing and painting of the 9th Arcanum, the Hermit.
The hand-painted cards of the "Tarot d'Argolance" (and the "Tarot de la Félicité"), are painting according to the > "Méthode des Quatre As" and presented in a precious wooden box with an illuminated book...
2000 euros

The silkscreen printed/printed version
Pictures have been printed in offset quadrichomic mode in 1984 by Jouve in Mayenne (France) on strong thin cardboard (500g/m²) from original paintings by Pierrick Pinot.
The serigraphy corner in the Atelier du Pied d'Or
After every sheet has been signed and numbered, the pictures are enhanced with silkscreen printed golden threads, the reverse side with a golden and black pattern. Then, two coats of a silkscreen printed 2 components warnish on both sides protect the whole sheet and finally give exceptionel solidity and stiffness to the cards... No less than 9 processes per sheet !
The pattern "Flying books" silkscren printed on the back - The Hermit with and without the golden threads



Then, cards have been cut out of the sheet, theirs edges lightly sanded down to remove bumps let by the cutting press, sorted out and arranged. The deck is surrounded with a paper ring stamped with the Argolance's seal and is ready to wander the world !

In short...

65 euros (cardboard box)

> The Tarot d'Argolance in my Store
APO Note


The Tock Game in my eBay Store !


Set composed of the wooden board in three parts, a little felt bag containing 24 colored box counters (green, yellow, blue, red, orange, rose) and two 54 cards decks, game rules, the whole inside a felt bag.
APO Note


The "Méthode des quatre As"


The method known as the "Méthode des Quatre As" (Four Aces Method !) developed in the "Atelier du Pied d'Or", is defined in four points certifying and characterizing the composition of my illuminations
APO Note


Little story or the Tarot d'Argolance
APO Note


The Tarot d'Argolance in my eBay Store !


Designer : Pierrick Pinot
Country of Publication : France
Number of Cards : 22 + 2
Publication Year : 1984
Publication Status : Limited edition of approximately 1000 copies, signed, serial numbered
Reference : Encyclopedia of Tarot, vol. III, p.75
Description : Silkscreen printed backs, four-color offset printing process faces, enhanced with silkscreen printed golden strokes, two coats of a "two components" silk varnish on both sides.
Style of production : Traditional
Cards Format : 7,5/15
Weight : 150 g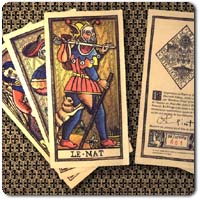 APO Note


The Tarot de la Félicité in my eBay Store !


Designer : Pierrick Pinot
Country of Publication : France
Number of Cards : 22 + 2
Publication Year : 2006
Publication Status : Limited edition of approximately 500 copies, signed, serial numbered
Presentation : Cardboard box
Style of production : Traditional
Cards Format : 8,7/17,2
Weight : 250 g