TAROTS & GAMES

Presentation
Among the traces that vanished civilisations let, games often are the first to be discovered. Allways and everywhere, their "invention" is attributed to Gods and their use reserved to a very closed circle, to an elite.
The picture beside, engraved in a mirror case kept in the British Museum dating back to 350 years before the Christian era, shows Aphrodite, Goddess of Love, playing knucklebones with the god Pan.
Divine or mundane, there are a thousand and one ways to play and all let think that game was from the outset something else that a simple pastime, even a medium for divination, both secondary use or late misappropriation in which it seems they have to degenerate ineluctably. Many elements prove that their elaboration was built on highiest knowledge, at least from the point of view or the contemporary scholaries (mathematics, geometry, astrology, cosmology, metaphysics...). In this way, the simple dice, the "invention" of which Grecian attibute to Hermes (equivalent of the egyptian Toth, guardian handing down the Tradition), is able to give a very synthetazing expression of cosmologic and metaphysic conceptions and serve as vehicle to their teaching. A board of a "Twelve lines" game, found in Rome in a public swimming pool by the archeologists, bears an inscription on both sides of a central cross above of which appears the Seal of Solomon. It says : To the dice players who trace his name even when they are playing, Jesus Christ lends assistance and victory. Taken in context, what kind of victory other than the possession of spiritual knowledge and realization may it be ? Traditional games, as tales and myths, are treasures that end up in holds of the popular memory. They sometimes survie here, wonderfully kept and perpetuated, even though it may be thanks to ignorance, vice and greediness, only things one can rely on, from time immemorial.
Here are some fo those games. Tarot is probably the more extraordinary ! Anyhow, the traditional style of their production tries to honor the memory of their mysterious and venerable origin...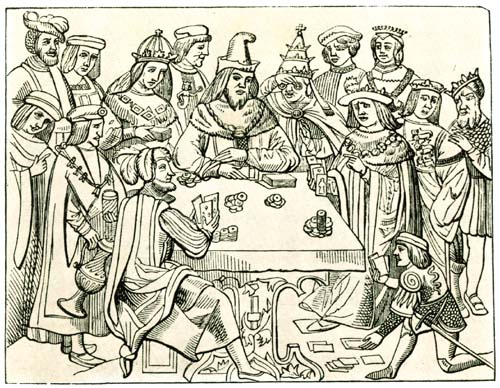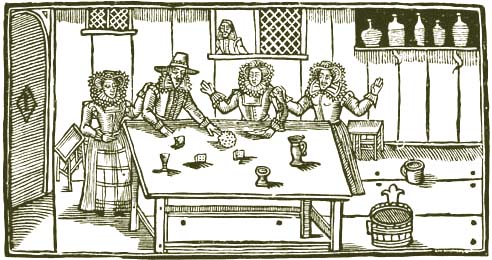 APO Note


The Tock Game in my eBay Store !


Set composed of the wooden board in three parts, a little felt bag containing 24 colored box counters (green, yellow, blue, red, orange, rose) and two 54 cards decks, game rules, the whole inside a felt bag.
APO Note


Little story or the Tarot d'Argolance
APO Note


The Tarot d'Argolance in my eBay Store !


Designer : Pierrick Pinot
Country of Publication : France
Number of Cards : 22 + 2
Publication Year : 1984
Publication Status : Limited edition of approximately 1000 copies, signed, serial numbered
Reference : Encyclopedia of Tarot, vol. III, p.75
Description : Silkscreen printed backs, four-color offset printing process faces, enhanced with silkscreen printed golden strokes, two coats of a "two components" silk varnish on both sides.
Style of production : Traditional
Cards Format : 7,5/15
Weight : 150 g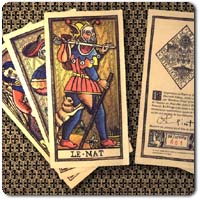 APO Note


The Tarot de la Félicité in my eBay Store !


Designer : Pierrick Pinot
Country of Publication : France
Number of Cards : 22 + 2
Publication Year : 2006
Publication Status : Limited edition of approximately 500 copies, signed, serial numbered
Presentation : Cardboard box
Style of production : Traditional
Cards Format : 8,7/17,2
Weight : 250 g