TAROTS & GAMES - The Tock Game

The game...
The characteristic features of this fantastic Tock Game are its original graphism and the great care which was brought to the traditional style of making of the board and of the colored box counters. If made for an intensive use, it is a decorative signed numbered collector's item too...

> More details
At present as we spend a lot of time in front of our computer or televison screens, this simple-rule game (which yet requires thinking and sometimes allows great moves !) is quite perfect to revitalize our afternoons or evenings and give again the taste of friendliness to those who ever lost it...

Playing Tock game gathered round the fireside !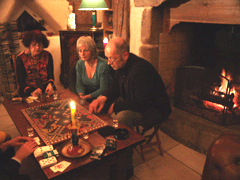 More details

Presentation and rules

Presentation
(Thank you to my friend Serge who made me discover this game !)
Number of players : 4 or 6 players or in teams
Equipment : 1 game board, 16 counters of 4 different colors, a deck of 52 cards or 24 counters and 1/2 a deck more.
The object of the game is to go round the game board by starting on the field marked with a star, in order to succeed in placing the 4 counters on the fields which constitute their arrival Camp called "Home" (in front of the field 16).
Rules
To start : When the game is played by 4 players, 5 cards are dealt on the first turn, 4 cards on each of the 2 following turns.
When the game is played by 3 players, 5 cards are dealt on the first turn, 4 cards on each of the 3 following turns, and the last card is discarded.
When the game is played by 2 players, 5 cards are dealt on the two first turns, 4 cards on each of the 4 following turns.
Turns move clockwise.
All the counters are placed on their 4 reserved fields which constitue their starting Camp called "break".
After the cards are dealt, every player must blindly give and get one card to and from the player who comes before and after him. When playing in teams (Red-Blue against yellow-green) it is the same except that the operation is done beetween the players of the same team. No talking strategy or signaling between partners is allowed. Taken card may not be a given card.
A player must have an Ace or a King in his hand to start. If a player does not have any of these 2 cards, he must place his cards in the centre of the game board and wait for the next deal.
Moving the counters : If one player's counter lands on an already-occupied field, he dislodges his opponent's counter and takes its place. The dislodged counter is then returned to its starting Camp and must start over.
If landing on field 7, the player may go directly to the next field 7.
When a player has more than one counter on the game board, he can move the one of his choice. On the track, a player cannot jump over any counter, except he lands on a field 7 (see above) or with a 7 which (among other things : see below the value of the cards) dislodges all the counters which are on its track. Every player must play his turn, even if it means dislodging one of his own, or partner's, counter or passing his arrival camp and... going round again ! When playing in teams, the player who has got all his counters into his arrival camp must help his partner. When his turn comes up, he must play one of his partner's counters.
Value of the cards:
Ace : allows starting or moving ahead one field.
King : allows starting or moving ahead 13 fields
Queen : allows moving ahead 12 fields
Jack : allows moving haead 11 fields and the player to change one of his counters with any other counter of any player, except counters placed on their starting field.
7 : this card's value may be shared between counters (five on one, two on another, three on one, four on another, etc.) or used to splitted up the movement of a single counter which can through this way, dislodge all counters on its track and, for exemple, stopping its movement on the field 7 (see above), fly to the next field 7, eventualy continue and finish by dislodging other counters on its track !
5 : allows the player moving one of his own or any counter of any player ahead 5 fields.
4 : makes the player go back four fields. This card may not be used to enter the arrival camp backwards but allows the player to move back a counter four fields diredtly from its starting field. It means that player may not go round to reach the area around his arrival camp.
Other cards allows moving according to their value.